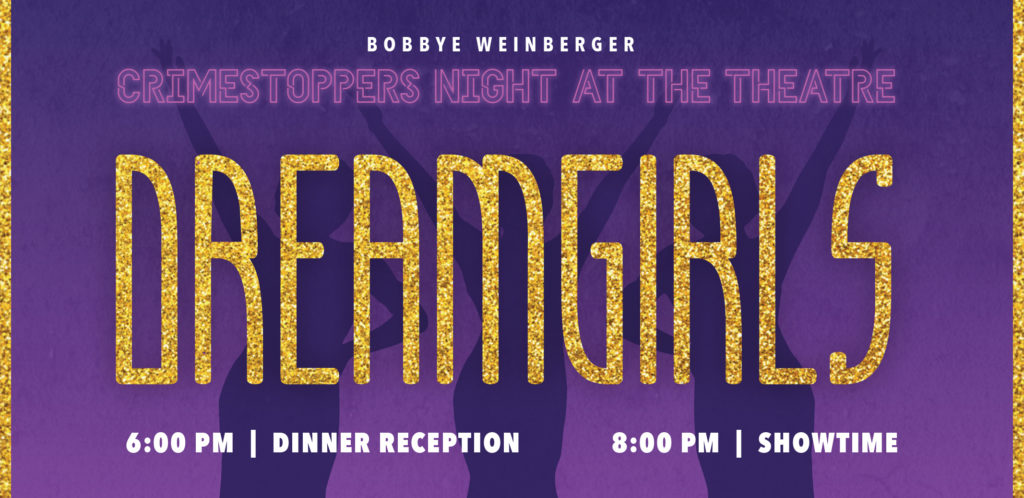 CrimeStoppers Night at the Theatre
Dreamgirls
Friday, June 22, 2018
Playhouse on the Square, 66 South Cooper Street
6 pm – Dinner Reception
8 pm – Showtime
We have a sell-out of this year's Night At The Theatre event. BUT it's still possible to donate to send a police officer and guest ($50 apiece).
We set aside 130 seats for them and are still seeking sponsors.
Let us know with an email to info@crimestopmem.org.
It's the early 1960s and girl acts are hitting the charts. Three young sisters form an R&B group in Chicago they call the Dreamettes. Although they are naive about the entertainment business, they do have the most necessary ingredient that can lead to success: talent. As they move up in the music world – finding heartbreak as well as stardom while shortening their name to The Dreams – there are plenty of lessons learned along the way about show business and about friendship. This beloved music loosely based on The Supremes and other groups won 13 Tony Awards when it first played on Broadway. Now it's premiering at Playhouse On The Square.
Buy Tickets, or send a police officer and a guest to the show, and help three worthy causes: CrimeStoppers, Playhouse, and the MPD.