Welcome to CrimeStoppers
CrimeStoppers plans two fundraising events this year. In August we will hold our first annual Golf Tournament. Meanwhile, our sixth annual Night At The Theatre event in May is sold out! See below for all the details. CrimeStoppers fundraisers are important because the organization relies on contributions to do its important work. Some people, even supporters, don't realize that we do not receive direct tax dollars to help solve crimes.
---

We appreciate all our sponsors who are helping defray the costs of the tournament.

We are sold out! But you can still donate here.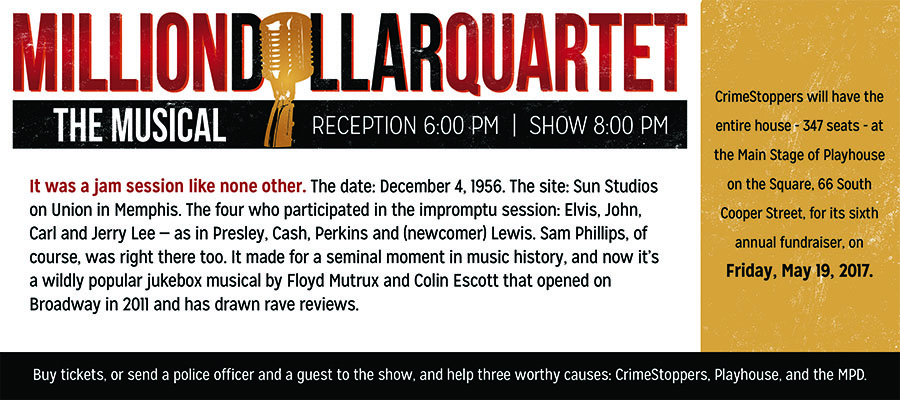 You can reserve tickets now by emailing your name, number of seats, and contact information to info@crimestopmem.org. You will be asked to pay for your tickets at a later date. To reserve and pay for your tickets online, click the image above.

Contact info@crimestopmem.org to receive a registration card in the mail, or click the image above to register online.

---
Tip leads to arrest in IHOP murder
Detailed tip to 528-CASH helps solve case; victim's photo was posted on Snapchat
Email Buddy Chapman Buddy@crimestopmem.org. You say it. We pay it.

---

You are visiting the official informational website of CrimeStoppers of Memphis and Shelby County, where you can learn about our many programs, keep up with Crimes of the Week, and make a donation.

---

CrimeStoppers of Memphis and Shelby County remains a vital tool in fighting and solving crime in our community.

Because citizens pay attention and want to help bring criminals to justice, they anonymously contact us with tips — by calling our hotline or texting us, or by sending a tip by web mail. When tips lead to arrests, we pay cash.

CrimeStoppers has created four related programs that serve specific segments of our community: Senior Citizens, Students, hispanic-speaking people and anyone affected by or aware of copper theft.

Click one of our program logos below to get more information.

If you want to visit our tips site at the Real Time Crime Center, click here.


If you have a tip about a crime, click here.