NEW! News Channel 3: "CrimeStoppers Tips Increase Bringing More People to Justice"
Daily Memphis reports on new $26,000 award in Cofield case
WREG-TV explains how CrimeStoppers tips work
WREG News Channel 3 reports on new and improved website
The Commercial Appeal publishes front page story in a $5,000 extra awards case of murdered husband of Memphis Police officer
Facts on CrimeStoppers and Cash Awards, Guest Editorial by Buddy Chapman, The Commercial Appeal, 9/7/17
WMC-TV News reports on CrimeStoppers' need for donations to keep paying rewards for tips
Fox 13 News reports on the 30 firearms found in schools thanks to Trust Pays
Golfers play the TPC at Southwind and take a swing at Memphis crime
Citizen tips leads to murder indictment for two in slaying of out-of-town visitor
---
UPDATE: Two arrested in killing of little Laylah Washington
Two men have been arrested for the murder of two-year-old Laylah Washington. A tip to CrimeStoppers helped break the case, police said.
Tylan McCray 21, and Brandon McCray, 19, were arrested December 21. The older McCray is charged with First Degree Murder and other counts. The younger McCray is charged with Accessory to Murder.
The arrests end nearly 18 months of intense investigation by the Memphis Police Department's Homicide Bureau.
Laylah was shot in an apparent road rage incident on June 11, 2017 while riding in her mother's car on Kirby Parkway near Castle Creek. She died of her injuries two days later.  The victim's photo: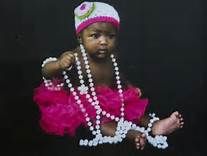 ---
CrimeStoppers Newsletters