24-Hour Tip Line
528-CASH (528-2274)

EXECUTIVE OFFICE
600 Jefferson Ave., Suite 451,
Memphis, TN 38105
Phone: (901) 525-5122
Fax: (901) 525-5112
How You Can Help
To phone in a tip on a crime or a possible crime, simply call 528-CASH
(528-2274). Don't mention your name. No one will know it. Just tell what you know or suspect and get your own secret personal ID number. Use it later when you call back to find out if an arrest was made and how to collect your reward.

To contribute to CrimeStoppers, send your tax-deductible check to Memphis CrimeStoppers, 266 South Front, #214, Memphis, TN 38103. Or, call our Executive Director (see below) about a deferred gift via a charitable remainder trust or a bequest in your will, including gifts of real estate, stocks, bonds, insurance policies or other property. We are able, willing, and eager to receive gifts of this type also.

You may also make a donation by following the link located below in the footer.
To get a speaker
from CrimeStoppers for your club, association, PTA or church group, or to get other information on CrimeStoppers, call our Executive Director, E. Winslow "Buddy" Chapman, at our Executive Office at (901) 525-5122.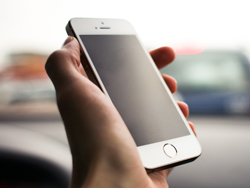 New App. New way to call.
Local citizens now can call in an anonymous tip to CrimeStoppers by using an
application available to iPhone owners.
The new TipSubmit Mobile App is the first fully-featured iPhone application
allowing the public to submit tips to law enforcement agencies to help solve or
prevent crime. This development means CrimeStoppers now can receive secure,
private tips four different ways:
Web-based email.
Text messaging
Phone call to 528-CASH
iPhone app