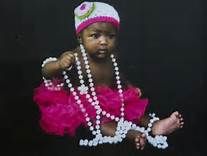 Gov. Haslam Adds $10,000 to Special Award
First Baptist Church Broad Donates $2,000
FUND FOR LAYLAH NOW ABOVE $20,000
Special awards fund now stands at $20,242
A fund has been established for an award to anyone who can provide information leading to the arrest of those involved in the road rage shooting that took the life of little Laylah Washington in June.
Add to the fund by sending your check, with "Laylah Fund" on the memo line, to:
CrimeStoppers
600 Jefferson Ave., Suite 451
Memphis, TN 38105
Little Laylah represents all the innocents
It appears to have been another incident of road rage: a male driver angrily taking exception to the perceived disrespect in words spoken by a woman driver, Leslie Washington. Who did she think she was? How dare she say anything?
Laylah Washington, who was riding in the back seat, was too young to understand any of it.
It was about 8 p.m. on a Sunday, June 11, 2017. Day was turning into night.
The mother didn't think she had done anything wrong, let alone break the rules of the road, such as cut into the first driver's pathway as he wove too fast through a parking lot off Winchester Road.
She thought he was driving unsafely. So she yelled, "Don't hit my car!"
The man was driving a black Chevrolet Impala, with as many as three passengers inside. Challenged and not to be dissed, he followed Washington's car onto the street. Shots were fired.
Washington drove to a nearby fire station. That was when she realized a bullet had struck her two-year-old daughter in the head. Laylah was too young to know how to be disrespectful. But one of the bullets found her anyway.
The little girl, who just loved to play with her toys, died two days later at Le Bonheur Children's Hospital. Soon a candlelight vigil was held in Hickory Hill and a GoFundMe page was launched for her mother to help with expenses. Video footage showing the black Chevy appeared on TV news and in social media. A wake was held at N.J. Ford and Sons Funeral Home June 23.
During all that time, through all the tears, no one called police or CrimeStoppers' well-known tips line, 528-CASH, with information.
Now some people in the community have started raising funds for an extra award that will go to anyone who provides information that can give authorities a lead to make an arrest.
The fund stands at $20,242 … and counting.
Those who love Laylah, or who just love justice, are counting on someone who knows who were in that dark car that dark night will make an anonymous call to CrimeStoppers for an award.
They hope someone will do it for Laylah and for all the innocents.
Awards over and above regular CrimeStoppers awards are sometimes offered by individuals and groups to help solve cases. Call tips or extra award queries anonymously to 528-CASH (2274) or via secure email: www.528cash.org.